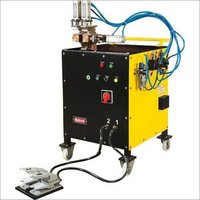 Butt Welding Machine
Product Description
Butt Welding Machine
VULCAN Butt Welding Machine is impedance soldering activity wherein mixture is delivered at the same time over the complete area of butting surfaces through thermal acquired from the resistivity of electric power by the range of touch of those surfaces. Force is used prior to VULCAN gladly presents for the advantage of the whole cable and wire handling industry, and in addition, metal processing industry an innovative series of productive machines for Butt soldering of all profile iron or iron, carbon steel, brass, steel, aluminum, alloy and various other alloys and metals. Our VULCAN Butt Welding Machine is highly advanced Resistance soldering procedure which guarantees joint quality even 25% greater than parent metal. Further, these machines are uniquely intended for non-ferrous and ferrous wire handling businesses in the make of cables, wire ropes, cycle wheel bead wires, wires, conductors and transformers.
Customers additionally incorporate wire-items producers, spun-pipe producers, metal working businesses, car enterprises and so on. Position metal poles in line as well as warm them to their plastic condition and use a drive to connect particles then offer time to chill it off, and afterward discharge pressure. Butt Welds are utilized as a part of businesses like rod drawing, steering or wire, kitchen and window accessories making.
VULCAN Butt Welders are result of numerous times of constant innovative work in the domain of Resistance Welding advancement. The programmed welding process ensures high malleable and uniform welds withstanding consequent drawing. These are highly precise and elegantly designed Butt Welding Machine, which are convenient and effortlessly portable on wheeled trolley. Furthermore, the working of the Butt Welder is easy that even incompetent work force discover that its simple to get flawless weld. Fundamental body lodging the soldering transformer and regulates is all around ventilated and developed from steel and light alloys. Inner components are effortlessly available for maintenance and examination. All parts are minimally composed and tough to withstand the hefty-duty job.
Technical Specifications
Various Models Available

Capacity

6 KVA to 50 KVA

Input

415 V, Single Phase, 50 Hz, (2 lines of 3 Ph. supply)

Type

Upset / Flash

Operation

Manual / Pneumatic