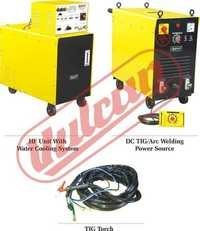 DC TIG Welding Machine
Product Description
DC TIG Welding Machine
As a quality-centric manufacturer and exporter our utmost emphasis is towards manufacturing robust DC TIG Welding Machine that are made from premium standard engineering accessories and machined components. Each machinery is carefully monitored after its ready to be used under the parameters of performance, sturdiness, voltage fluctuations so that the DC TIG Welding Machine we deliver are totally streamlined and beyond customer expectations. Due to the high-end benefits of our machinery more and more customers from around the world are using our gamut and are constantly appreciating the quality we offer.
SCOPE AND APPLICATIONS
VULCAN Direct Current forced air cooled, DC TIG Welding, full function High Quality DC TIG Welding for Stainless Steel, Copper Alloy, Nickel Alloy, Mild Steel, Low Alloy Steel, Titanium, Bronze and etc. Low Spatter and High Performance DC TIG Welding for any Steel and Stainless Steel, very useful for stainless steel furniture manufacturing. Down slope time control from smooth and perfect finish of Welding. High frequency generator for arc striking without contact. Gas Pre/Post flaw to eliminate contamination of the weld.
SALIENT FEATURES
Real Vertical Characteristics.
Stable Arc with easy droplet transfer.
Hot Start facility.
Epoxy powder coated body for rust free long life.
Corded Remote Control.
Protection against H.F. Interference and Thermal run away.
Superb Welding Performance.
Reliable and Tropical Design.
Built in high frequency unit.