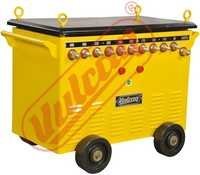 Electric Arc Welding Machine
Product Description
Electric Arc Welding Machines are provided with an optimal welding process which is used to connect metal to metal by employing electricity. Terminals for welding leads can be well protected from inadvertent electrical contacts by personnel or by metal objects, such as vehicles, crane hooks, etc. Protection may be attained by making use of settled openings with non-removable hinged covers, dead-front receptacles for plug connections, heavy insulating sleeving or taping or other corresponding mechanical and electrical protection. These are offered with grounding conductors as well as the terminals that are made to indicate that these are grounded. Offered best quality Electric Arc Welding Machines perform the task of arc welding that is one of numerous fusion procedures utilized for joining metals. These are appreciated for their continual welding processes and have efficiency in operation.

SALIENT FEATURES

1) Modern looks, novel design concepts.
2) Epoxy powder coated body for rust free long life.
3) Coil varnishing by vacuum pressurized impregnating varnishing system to enhance
4) Reliability and services life.
5) High efficiency, energy saving, low maintenance.