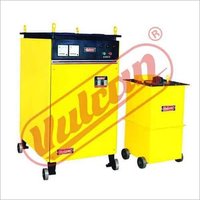 Electroplating Rectifier
Product Description
Electroplating Rectifier
Vulcan Electroplating Rectifier proves to be of use in a broad array of jobs such as electroplating power sources. This product achieves superior DC transitions and has minimum surge is below 1%, as compared to other makes models where the minimal surge is 5%. The machine helps accomplishes excellent results due to a high current unit that is used for industrial chrome plating. Our machine has the best ratio of performance / cost in the entire industry. In other words, the said ratio is better than that of other brands of machinery present in the marketplace. Its in-built features are also superior and in tune with the newest trends in the production and designing process. The Electroplating Rectifier is also tested on strict parameters in order to offer decades of effortless service. We also seek assessment and approval of customers regarding our product's performance in their specific application environment.
Features:
Contemporary looks and fresh design constructs
The body is coated with Epoxy powder to ensure a rust free life
Has a Dually wound Main Transformer; a vacuum-pressurized impregnating coating system.
Is specifically treated to withstand high humidity or acid-fumes. Is designed to operate constantly at high efficiency.
Regulators: Banking upon the products design and applications, we offer a stepless Auto Transformer make that is available operated either automatically or manually. We also offers other types of regulators such as saturable core, thyristorised,and magnetic shunt
Our Silicon Diodes are tested in a factory under strict and tough simulated conditions in order to check their service and to defend from any storage charge
Our Thermal Runaway and current flows work tirelessly and without failure.
Controls: Comes with standards operating push buttons such as ON-OFF along with contactors; Other buttons such as Constant Current, Timer Control, and Voltage Control are offered at an extra price; These operate the equipment according to the predetermined operating sequence.
All machines can work endlessly at full capacity, at a peak environment temperature of about 45º C.
Technical Specifications
General Data for Electroplating Rectifier Equipment
PARTICULARS

A. C. Input

Recommended Aluminium
Output Busbar Dimentions.

Amps.

Volts

Phase

Volts

Cross
Section in mm

Nos. in Parallel

50

8. 12. 16. 24

1
3

200-250
380-440

15X3



1
-do-

100

8. 12. 16. 24

1
3

200-250
380-440

15X6



1
-do-

150

8. 12. 16. 24

1
3

200-250
380-440

25X6



1
-do-

250

8. 12. 16. 24

3

380-440

50X6

1

500

8. 12. 16. 24

3

380-440

75X6

1

750

8. 12. 16. 24*

3

380-440

100X6

1

1000

8. 12. 16.* 24*

3

380-440

75X6

2

1500

8. 12.* 16.* 24*

3

380-440

75X6

3

2000

8.* 12.* 16.* 24*

3

380-440

75X6

4