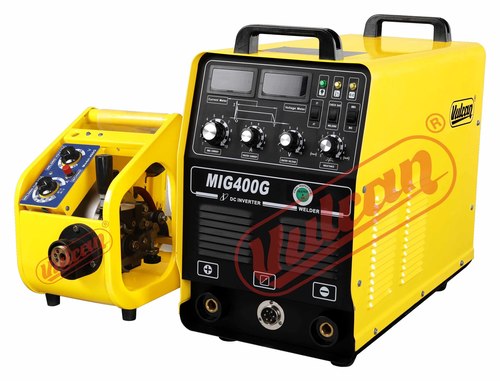 Inverter Mig Welding Machine
Product Description
SCOPE AND APPLICATIONS
VULCAN Inverter Base MIG Welding equipment extends India's most advance range of MIG/MAG Welding Systems into thin and medium applications, very useful for mild Steel, Stainless Steel and aluminum welding. 250, 400, 500 and 600 Amps. for heavy duty works, system designed to weld at costs far lower than conventional methods. Design with MOSFET / IGBT technology for More power saving with better economy
SALIENT FEATURES
MIG / MAG or MMA Welding features.
Pre-selection of OCV and Gas Flow Rate.
Smooth, Spatter free CO2,MIG/MAG welding.
Excellent quality with Solid/Flux cored/SS/Aluminum Wire.
Protection against Thermal Overload.
Maintenance free and weld safe rugged outfit.
Ready to use Package Supplied with sturdy Gun (3 MTR. long), 2/4 roll Drive Wire Feeder and all accessories.
Can be supplied with 5/10/15 Mtrs. Long interconnection cable for better accessibility at long distance welding point.
Heavy duty, Light weight, flexible cable, Gas/Water Cooled Torch.
Unmatched Welding Performance.
Compact in size and Light in Weight.