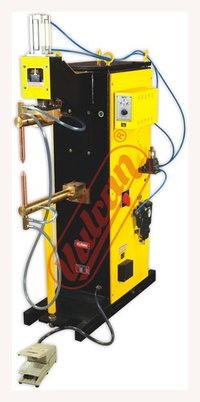 Pneumatic Welding Machine
Product Description
Pneumatic Welding Machine
We Offer Pneumatic Welding Machine That Functions Using Pressurized Gas And Is Used For A Myriad Of Industrial Applications. The Machine Is Manufactured By Making Use Of Highly Durable, Precision Crafted Parts That Ensure Stable Performance And Low Maintenance Requirement. The Machine Consumes Minimal Power And Is Today Among The Most Sought After In The Market Owing To Its Competitive Pricing And Unmatched Service Life Which Ensures That Buyers Get The Most For Their Money. Furthermore, The Machine Is Tested Extensively By A Team Of Quality Controllers Who Make Certain That The Machines Deliver Optimum Performance.
Vulcan Pneumatic Operated Spot Welding Machines Are Offered In 15, 20 & 30 Kva Models. All Machines Are Made Of Steel Fabricated Rigid Structures Eliminate The Minutest Spot Deflection. Pneumatic Spot Welders Are Designed For High Speed Production Jobs Meet Vast Needs Of Metal Fabrication Industries Including Sheet Metal Components, Cross Wire Welding, Kitchenware, Electro Brazing, Resistance Heating Etc.
Salient Features
Transformer: Low Leakage (High Linkage) Design, Proper Cooling And Insulation Including Winding Varnishing By Vacuum Pressurized Impregnating System To Enhance Reliability And Service Life.
Current Control :Current Setting From Min. To Max. Can Done By 6 Position, Off Load Tap Changing Switch.
Time Control: Solid State Electronic Timer To Control Weld Time From 5 To 50 Cycles And 1 To 10 Seconds To Achieve Accurate And Repeatable Spots.
Electrodes : One Pair Of 2 Straight Electrodes Made From Hardened Copper-Alloy Is Supplied With The Equipment. Other Types Of Spare Electrodes Can Be Supplied On Specific Orders.
Cooling: Electrodes And Arms Are Provided With Water Cooling Arrangement With Hose Connections. Main Transformer Natural Air Cooled.
Technical specification
PARTICULARS

UNITS

VPS-20

VPS-30

VPS-50

VPS-75

Input Supply

Volts

415 V, 1 Phase (2 lines of 3 phase supply), 50 Hzs. AC

KVA Rating @ 50% Duty Cycle

KVA

20

30

50

75

Nominal Throat Clearance

MM

250

Throat Depth

CM

50

50 – 60

50 – 75

Max. Available Short Circuit Current

K Amps

12

18

23 – 18

26 – 20

Max. electrode Force @ 6 Kg/cm2




450

480

Upper Electrode Stroke Max

MM

50

Insulation

Class

A (Copper Wound)

Max. Dimensions with arm (Approx)L x W x H

MM

1100 x 520 x 630

1350 x 600 x 1750

1350 x 650 x 1750

Weight with arm (Approx)

Kgs

220

250

295

360

Confirm To




IS – 4804 (Part III) – 1969

Customers to Provide the Following Services

External Water Supply at max. Temp. 300 C

Lit./Min

7

10

Size of mains supply Copper Cabal

MM2

16

25

35

50

Main Supply switch fuse Rating 500 Volts

Amps

35

75

100

150

Delayed Action fuse Rating Amps.

Amps

30

60

90

140