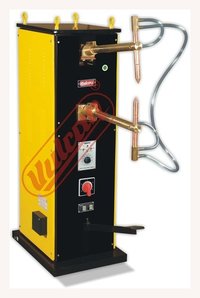 Resistance Welding Machine
Product Description
Resistance Welding Machine
Our Resistance Welding Machine Is Manufactured By Our Team Of Professionals Who Make Use Of Their Rich Experience, Precision Engineered Parts And Superior Grade Materials In Order To Ensure That Unrivaled Quality Is Achieved. Tested Along Various Performance Parameters, The Machine Delivers Stable Performance While Consuming Minimal Power And Offers Users With Unmatched Operational Efficiency. Today, The Machine Is In Use By A Number Of Leading Organizations And Is Known For Its Long Service Life And Ease Of Maintenance.
Vulcan Pneumatic Operated Spot Welding Machines Are Offered In 15, 20 & 30 Kva Models. All Machines Are Made Of Steel Fabricated Rigid Structures Eliminate The Minutest Spot Deflection. Pneumatic Spot Welders Are Designed For High Speed Production Jobs Meet Vast Needs Of Metal Fabrication Industries Including Sheet Metal Components, Cross Wire Welding, Kitchenware, Electro Brazing, Resistance Heating Etc.
Salient Features
Transformer : Low Leakage (High Linkage) Design, Proper Cooling And Insulation Including Winding Varnishing By Vacuum Pressurized Impregnating System To Enhance Reliability And Service Life.
Current Control :Current Setting From Min. To Max. Can Done By 6 Position, Off Load Tap Changing Switch.
Time Control: Solid State Electronic Timer To Control Weld Time From 5 To 50 Cycles And 1 To 10 Seconds To Achieve Accurate And Repeatable Spots.
Electrodes : One Pair Of 2 Straight Electrodes Made From Hardened Copper-Alloy Is Supplied With The Equipment. Other Types Of Spare Electrodes Can Be Supplied On Specific Orders.
Cooling: Electrodes And Arms Are Provided With Water Cooling Arrangement With Hose Connections. Main Transformer Natural Air Cooled.