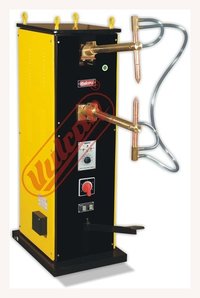 Spot Welding Machines
Product Description
Spot Welding Machines are a range of state-of-the-art industrial machinery that are serving the application needs of several industrial sectors efficiently. As one of the Spot Welders manufacturers and exporters we try to bring forth machinery that can totally surpass customer expectations. Our Spot Welding Machines are provided in varied models of 6, 8, 15 KVA in which every single one comes with three modular throat thickness. The machinery are made of top-notch forged steel and allied metal components in order to eliminate any kind of damage on the products.
Salient Features :

Transformer: The cooling and protection process that include winding varnishing is done through vacuum pressurized infusing system to upgrade unwavering quality and service life Current Regulation: The power setting can be done from least to extreme and can be performed in 6 position off load tap replacing switch
Time Control: A robust state electronic clock is fitted in in to regulate or control solder time that varies from 5 to 50 cycles and also from 1 to 10 seconds to complete the repeatable spots
Weld Force: The unique system in our machine totally reduces extreme labor work and assures easy setting as it has a hefty duty compact spring attached with a pressure rod.
Cooling: Our electrode and arms are fitted with water chilling system and hose links
Anodes: One set of morse tape has almost 2 straight produced that are made using solidified copper amalgam and that is then offered with a machine. The other electrodes can be provided on customer request.
Cabinet: The cabinet has sturdy designs and modern looks and is covered or coated with Epoxy powder to ensure corrosion free life.
Specifications:
PARTICULARS

UNITS

VS-6

VS-8

VS-10

VS-15

Input Supply

Volts

415 V, 1 Phase (2 lines of 3 phase supply), 50 Hzs. AC

Rating @ 50% Duty Cycle

KVA

6

8

10

15

Nominal Throat Clearance

MM

250

Throat Depth

MM

200 300 400

300 400 500

300 400 500

300 400 600

Welding Range Max.2x
Mild Steel Min.2x
Thickness

MM
MM

2.0 1.6 1.0
0.3 0.25 0.1

2.5 2.0 1.25
0.35 0.3 0.2

3.0 2.5 1.5
0.4 0.3 0.2

3.5 3.0 1.0
0.6 0.5 0.1

Brass Steel Max.2x
Thickness Min.2x

MM
MM

0.8 0.7 0.45
0.17 0.1 0.08

1.0 0.9 0.6
0.2 0.1 0.08

1.2 1.1 0.75
0.25 0.2 0.12

2.0 1.5 0.9
0.3 0.2 0.1

Stainless Steel Max.2x
Thickness Min.2x

MM
MM

1.6 1.4 0.8
0.25 0.2 0.12

2.0 1.8 1.0
0.3 0.25 0.15

2.4 2.2 1.2
0.32 0.28 0.18

3.0 2.4 0.9
0.4 0.3 0.1

Max. Available short ckt. Current

KA

6.5 5.5 5

8 7.5 7

8.5 7.5 6

11 10 8

Nominal Electrode Force (Approx)

Kg.

150 100 75

150 100 75

150 100 75

150 100 60

Max. Electrode Stroke

MM

70

Insulation

Class

A (Copper Wound )

Max. Dimensions Without Arm (Approx)
L x W x H

MM

600 x 390 x 1330

630 x 440 x 1330

Weight Without Arm (Approx)

Kgs.

120

130

140

150

Confirms to




IS 4804 (Part II) 1968

Customers to provide the following services

External Water supply at max. Temp. 30o C

Lit./Min

3

5

Size of mains Supply Copper Cable

MM2

8

10

12

15

Recommended Switch Rating

Amps

30

Delayed Action Fuse Rating

Amps

20

30