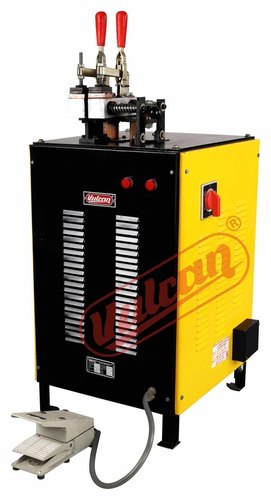 Wire Butt Welding Machine
Product Description
Wire Butt Welding Machine

Used To Join Two Parallel Components, The Wire Butt Welding Machine And Is An Economical Method Of Creating Solid Joins. The Machine Is Today Used For Manufacturing Special Fittings And For Various Prefabrication Purposes. Moreover, In Order To Ensure Stable Functioning, The Machine Is Tested Extensively And Is Thus Free From Defects. The Welding Machine Is Compact And Is Lighter Than Other Similar Welding Machines Owing To Which It Is Used By Service Providers Who Move Between Job Sites.
Scope And Applications
Butt Welding Is Resistance Welding Process Wherein Coalescence Is Produced Simultaneously Over The Entire Area Of Butting Surfaces By Heat Obtained From The Resistance Of Electric Current Through The Area Of Contact Of Those Surfaces By The Heat Obtained From The Resistance Of Electric Current Through The Area Of Contact Of Those Surfaces. Pressure Is Applied Before Vulcan Proudly Introduces For The Benefit Of The Entire Wire And Cable Processing Industry , As Well As Metal Working Industry A New Series Of Efficient Machines For Butt Welding Of All Profile Wires Or Iron, Steel, Alloy And Carbon Steel, Copper, Brass And Other Light Metals And Their Alloys. Vulcan Butt Welding Is A Most Modern Resistance Welding Process Which Ensures Joint Strength Even 25% Higher Than Parent Metal. Vulcan Butt Welding Machines Are Specially Designed For Ferrous And Non-Ferrous Wire Processing Industries In The Manufacture Of Wires, Cables, Conductors, Wire Ropes, Transformers, Cycle Tyre Bead Wires. Users Also Include Wire-Products Manufacturers, Metal Working Industries, Spun-Pipe Manufacturers, Automobile Industries, Window & Kitchen Accessories Making Etc. Vulcan Butt Welders Are Product Of Many Years Of Continual Research And Development In The Field Of Resistance Welding Technology. The Automatic Welding Process Guarantees High Tensile And Uniform Welds Withstanding Subsequent Drawing.
Vulcan Butt Welders Are Highly Precise And Elegantly Designed Upset Butt Welding Machines. The Machines Are Portable And Easily Movable On Wheeled Trolley. The Operation Of The Butt Welder Is So Simple That Even Unskilled Personnel Find It Easy To Get Perfect Weld. Main Body Housing The Welding Transformer And Controls Is Well Ventilated And Constructed From Light Alloys & Steel. Internal Parts Are Easily Accessible For Check Up And Maintenance. All Components Are Compactly Designed And Sturdy To Withstand The Heavy-Duty Work.
Salient Features
Transformer: Low Leakage (High Linkage) Design, Proper Cooling And Insulation Including Winding Varnishing By Vacuum Pressurized Impregnating System To Enhance Reliability And Service Life.
Current Control :Current Setting From Min. To Max. Can Done By 6 Position, Off Load Tap Changing Switch.
Annealing:Inbuilt Annealing Function.